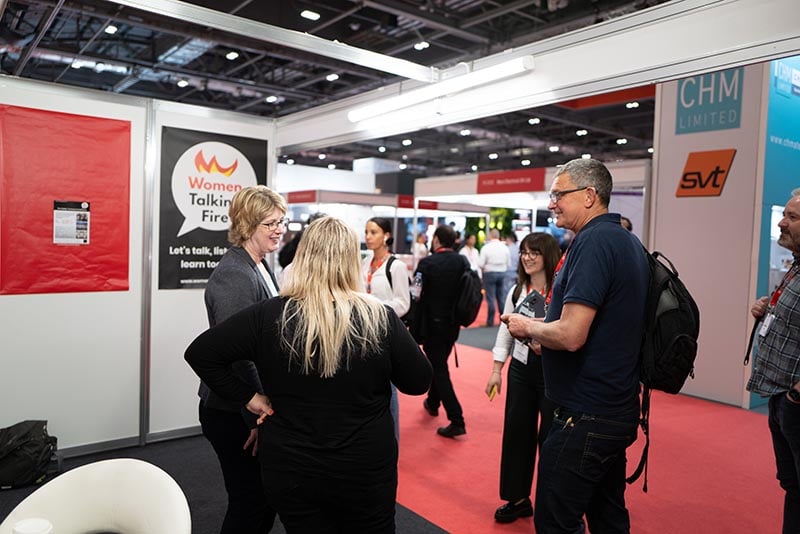 IFSEC Insider catches up with Andrea White, Fire Engineer and Managing Director of A W Fire, and also founder of the women's networking group for the UK fire safety industry, Women Talking Fire.
We hear why female-focused networking groups are important, how the industry can do more to develop inclusive principles, and why Andrea believes competency is the biggest challenge the sector faces.
---
IFSEC Insider (II): What's Women Talking Fire all about – why have you set it up?
Andrea White (AW): Women Talking Fire is an independent women's networking group for the UK fire safety industry. I established the Institution of Fire Engineers' Women in Fire Engineering Networking Group in 2021 but decided after two years to establish an independent group.
Women Talking Fire was created in March 2023 and we already have almost 450 members.
Our ethos is "Let's talk, listen and learn together". We have a LinkedIn Group where we post technical and inspirational content. We're currently organising several conferences for 2023/24 – our next one will be a technical conference on 16 November 2023 at the Queens Hotel in Leeds.
And we've recently developed a website where you can find out more details about us and about our events – we're grateful to Maze Fire Consulting for sponsoring the website this year.
We're also keen to increase the visibility of women in the fire safety industry by supporting expo organisers and ensuring there is greater gender diversity among speakers and hosts of stage events. We want to inspire women to progress through our industry and "if you can see it, you can be it".
Our stand at FIREX generated a lot of interest in what we're doing – thank you to all the volunteers who manned the stand over the three days and to all those who spoke on the various stages. We gave away Women Talking Fire badges to promote our group, which were very popular.
II: Why do you think there is a need for female-focused groups in the fire sector?
AW: It's certainly a valid question. I set up the group because it was something that I felt would've benefitted me when I began in the industry. It's turned out to be incredibly popular and the feedback has been positive.
Here are some of the comments we've received:
"You guys are doing amazing work and are potentially setting the scene for a new industry culture."

"This is the first all-women's activity I've been to and wow what a difference. This is so authentic and inspiring. Thank you so much."

"Really wanted to say how much I appreciated this event – to feel part of a community like this is wonderful and completely down to you. Thank you!"
II: What challenges do women face in the fire sector?
AW: When I set up the independent group, I asked whether individuals wanted a women's group and the response was a resounding yes. I think it's important to recognise how isolating it can feel if you are 'the only'; when you're different to others you work with.
We organised a stage session on male allyship at FIREX to start these conversations.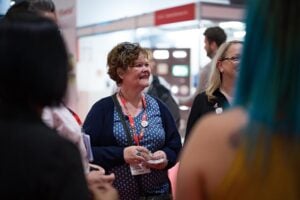 As an industry, I think we need to get better at inclusivity and appreciating the enormous benefits that diversity of thought can bring amongst decision-makers. At present, I see too many working groups and committees who lack diversity of experience and perspective. I think we're missing out on valuable insight if we don't ensure that different perspectives are heard and considered.
II: Why would you encourage other fire professionals to get involved with the group? Is it open to men and women?
AW: The group is open to anyone who identifies as a woman and works either as a fire safety professional or in a company that provides fire safety services. We're also keen to welcome allies who support inclusion, equity and equal opportunity.
We want to talk, listen and learn together so we can implement positive change because we believe that together we are stronger.
II: What should businesses in the fire sector think about when developing inclusive principles in their hiring practices?
AW: I think it's important to listen to a wide group of individuals about what they need from their employer to offer their best selves at work.
The pandemic has demonstrated that technology advances mean we can work from more locations than solely the office. And I think it's important to appreciate that some people are trying to combine earning with caring responsibilities – their requests often aren't just to make their lives easier but to allow them to fulfil both roles. This was certainly a challenge for me, as a single parent.
If organisations aren't willing to be as flexible as individuals need, they are missing out on a substantial pool of talent. I believe that the way that organisations treat their employees is potentially a huge differentiating opportunity – but one that isn't being fully appreciated yet.
II: Looking at the overall fire sector, what's currently the biggest challenge facing professionals?
AW: I think the greatest challenge we face currently is competence amongst professionals.
The Grenfell Tower fire clearly showed a lack of competence in fire safety across relevant professions. Competence is something that I've watched eroding across our industry throughout my 25 years in fire safety.
Several decades ago, as we moved to greater deregulation and also to wanting more flexibility in building design, we swapped prescriptive requirements for functional Building Regulations.
In this environment, higher levels of competence were required of individuals. Yet such changes also coincided with a move from exam-based assessment of competence to attendance certification – we no longer had to demonstrate competence to pass many courses.
These two issues left a widening chasm between levels of industry competence available and levels of competence required to do the job properly. While there have recently been many calls for individuals to demonstrate competence, I think that instigating an appropriate solution will be challenging.
Source: IFSEC GLOBAL