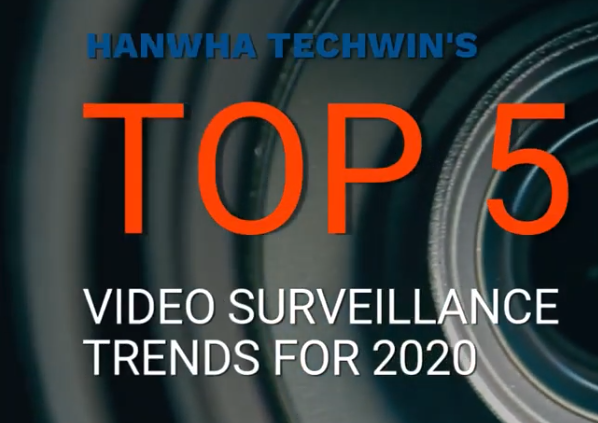 AI END-TO-END SECURITY SOLUTIONS
As AI becomes more broadly adopted across industries, it is likely to become one of the most prominent surveillance trends in the upcoming year. Edge-based AI (which filters and processes data locally on a camera), will be more ubiquitous, enabling end-to-end AI technology. Today, most security cameras send the data they collect to servers to be analysed. However, with edge-based AI, the data is analysed by the camera first, and subsequently sent to the server. This reduces the burden of transferring and storing large amounts of data to a server, thereby increasing efficiency, saving time, and reducing server costs typically required to analyse data. In 2020, Hanwha Techwin will introduce edge-based AI cameras, as well as AI-powered NVRs and VMSs, to introduce end-to-end (camera to storage server and VMS) AI security solutions.
2. CYBERSECURITY
With IoT devices becoming ubiquitous, the importance of cybersecurity has never been more important. Today's cyber-attacks are more intelligent and advanced than ever, so building cyber-resilient security systems is no longer an option, but an imperative.
Smart cities, factories, financial institutions and retailers today require scalable video surveillance solutions which are closely interconnected with other devices and networks, making the importance of cybersecurity paramount.
Strong cybersecurity has always been Hanwha Techwin's priority and the company has been refining the technology since the beginning. The soon-to-be released Wisenet 7, the newest version of Hanwha Techwin's own SoC (System on Chip), has been designed with the strongest cybersecurity features including a secure booting function and signed firmware for both software and hardware. Validated by the UL Cybersecurity Assurance Program (CAP) certification, Wisenet 7 ensures that users have access to the industry's most advanced cybersecurity features.
3. CLOUD–BASED DATA INSIGHT
According to IDC, a provider of information technology market intelligence, there will be about 175 zettabytes of data in the world by the year 2025, with much of it stored in the cloud and data centres around the world. At the same time, video surveillance solutions will go far beyond functioning as a simple monitoring tool to become an indispensable aid to organisations by providing useful insights that improve business operations. The importance of accessible cloud-based servers that can easily store and analyse the accumulated data, will also increase. Going beyond being an efficient storage repository, sophisticated analytics will use cloud processing to analyse the stored data and provide useful insights.
Note (edited): In 2020, Hanwha Techwin has already introduced Retail Insight 2.0, a new cloud-based solution designed to facilitate store management. Also on the pipeline, the Device Health Monitoring Cloud will monitor and manage video surveillance devices in real time.
4. PRIVACY PROTECTION
Together with cybersecurity, Hanwha Techwin believes that the protection of personal data should be integral to the business ethics of a video surveillance company. By its very nature, the video data that is collected for security purposes almost always contains private information. Therefore, protecting surveillance data is imperative. Around the world, privacy protection laws are being introduced, such as the General Data Protection Regulation (GDPR) in Europe, and the Federal Information Security Management Act (FISMA) in the US. The California Consumer Privacy Act (CCPA), is also set to come into effect in January 2020. These laws will force the video surveillance industry to follow "privacy by design" best practices and renew their efforts to protect personal data from misuse and abuse. Organisations are increasingly aware of the dangers of private data breaches and they are becoming more discerning when choosing security products and solutions. Domestically, Hanwha Techwin provides a solution with VPM (Video Privacy Management) technology and has released its S-COP (Smart Cover of Privacy) lineup to comply with GDPR globally.
5. VERTICAL SPECIALISED SOLUTIONS
Vertical markets in the security industry are increasingly requiring more specialised devices and solutions to meet their unique requirements. With the emergence of the 4th industrial revolution, the presence of smart verticals will be more prominent, and video surveillance companies must be ready to provide solutions for smart cities, factories, transportation and retail organisations. Hanwha Techwin already provides products for these verticals and plans to expand its lineup of specialised solutions in the near future, to include asset management solutions with IoT technology.
Source: Hanwha Techwin Europe