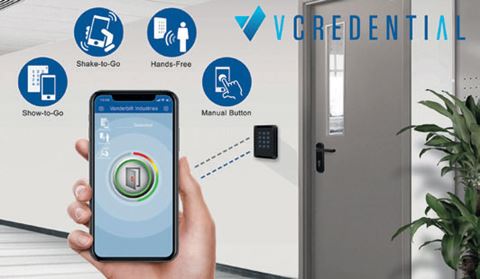 The global usage of cloud based access control solutions has grown exponentially during the pandemic.
"The discussion with customers is not about what the cloud is anymore but about the services and what the benefits are", says Michael Byrden, Vanderbilt's Business Development Manager – Access Control for Northern Europe.
During the pandemic, many companies have realised the benefit of remote maintenance that cloud based access control provides, and also the advantages of being able to integrate access control to other solutions.
Michael Byrden says: "If you go back 2–3 years, we had to explain our cloud solutions, but those conversations have completely changed now, as companies are starting to adopt cloud technologies in all aspects of their business. The discussion is not about cloud anymore but about the services that we provide as opposed to what the cloud is, and what the benefits are."
Lower TCO
He points out convenience and cost effectiveness as some of the main benefits for the end user – they can manage their access control system from anywhere they like and they can do it from their mobile devices.
"Especially now when people are not working in the office all the time, it is essential to have solutions that can be managed off-premises, and you do not have to be there. So, the conversation has shifted and from our point of view, the cost of ownership is very interesting, as many customers are not that familiar with total cost of ownership being lower within a cloud solution than for an on-premises solution", Michael Byrden says.
Over the lifetime of a system, Vanderbilt estimates a cloud-based solution is about 15–20 per cent cheaper than an on-premises solution in terms of total cost of ownership.
Always upgraded
Vanderbilt also estimates that a typical installation of a cloud-based access control system is about 35 per cent faster than an on-premises solution. One of the main reasons for that is that no software needs to be installed on local computers.
"With the benefit of remote maintenance, all these companies have started to see the benefits of having this cloud-based access control product that could be integrated with other software solutions. That is a strength we have with the flexibility and an open mindset, we want to be a company that other companies want to integrate with", says Alex Holmström, Global Sales & Marketing Director at Acre International, the group organisation under which Vanderbilt operates.
With an on-premises solution, perhaps in two years' time, the operating system has to be upgraded and then the database has to be upgraded and at some stage, the servers have to be swapped out – which is not needed with a cloudbased access control system where the firmware within the hardware can be upgraded remotely.
"The number of security installers around the world that are using our cloud-based access control solution increased by over 25 per cent in 2020 and that is a clear indication of the strength that ACT365 offers. With a cloud solution you will always have the latest version. So, the longer it goes on, the more cost-effective the cloud-based system will be", says Alex Holmström.
Great for multiple sites
Michael Byrden says multiple locations with a relatively low number of doors per site is a sweet spot for cloud solutions: "Take a supermarket with 20 stores, and in each store, you might have 5-6 doors that need protecting. The cloud solution is perfect for that", he says.
Vanderbilt released Bluetooth Low Energy (BLE) readers at the end of 2019 and they were followed by the new Vcredential, a cloud-based credential management platform at the end of last year.
"One of the things that makes it unique is that system integrators and end user can manage all their mobile Bluetooth credentials, and, independent of which access control platform they are utilising", says Paul McCarthy, Product Manager for Cloud Access Control at Vanderbilt.
Mobile credentials
He claims it is a future proof investment because the market is transitioning more to mobile and Bluetooth credentials.
"And it is easy to administrate, it is secure, and it will extend the life cycle of your whole security installation. Using Vcredential allows for a smooth migration to modern technology, independent of what you are using today", he says.
Paul McCarthy also highlights the fact that mobile credentials are available through a convenient perpetual licence with no hidden costs as the price per credential is paid up-front.
The pandemic has increased the demand for touchless access control solutions. And in some countries, the demand for facial recognition and temperature detection has increased as well as the demand for counting people that enter a premise, and this has been driven by governmental regulations.
"Post-Covid, touchless solutions and mobile credentials usage will only continue to increase", says Alex Holmström
Source: SecurityWorldMarket