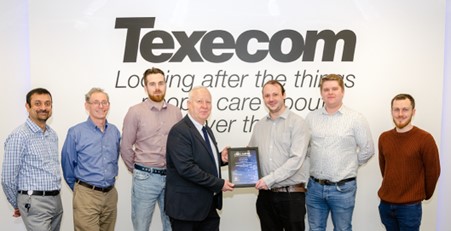 Leading intruder detection manufacturer Texecom, has received Cyber Security Product Assurance Group (CySPAG) accreditation from the BSIA for the company's digital services platforms.
Set up in 2017, the Cyber Security Product Assurance Group (CySPAG) is an action group that is operated by the BSIA to tackle cyber security in the professional security industry with the objective of ensuring best in class digital security products enter the market.
Following a strict assessment procedure to meet a set level of criteria Texecom Cloud Services, Texecom Connect (application), Texecom Monitor and Texecom Smartcom all successfully received the CySPAG accreditation which is valid for 12-months before being re-tested to the latest cyber requirements.
Covering all aspects of cyber security, the assessment follows a secure development lifecycle and as a result cyber security features are considered and tested alongside other product functions throughout the product development process. This reduces the number and severity of any potential security flaws in the product prior to it entering the market.
Cyber security best practice processes are also assessed including ensuring all default passwords are fully unique and multi-factor authentication is used ensuring the number of potential attack surfaces are minimised.
Further requirements of the CySPAG accreditation required Texecom to successfully demonstrate effective & efficient communication policies for security updates along with a pro-active vulnerability disclosure policy allowing customers to report any unlikely security vulnerabilities they may encounter.
Steve Lampett, Technical Manager, BSIA, said: "We are delighted that Texecom has joined the CySPAG registration scheme. By registering on the platform it sends out a message of confidence throughout the supply chain that cyber security has been addressed not only at a product level during the design and manufacturing process, but also includes the ongoing support to ensure the installed product maintains its resilience to cyber-attack."
Alex Toohie, Compliance Manager, Texecom, said: "Our Texecom digital services platforms provide a large number of benefits to both professional security installers and their end-user customers. Receiving this accreditation not only underpins our focus on cyber security across all of these platforms but also provides peace of mind to our users as we strive to constantly improve the performance and security of our digital services."
Source: SECURITY WORLD MARKET