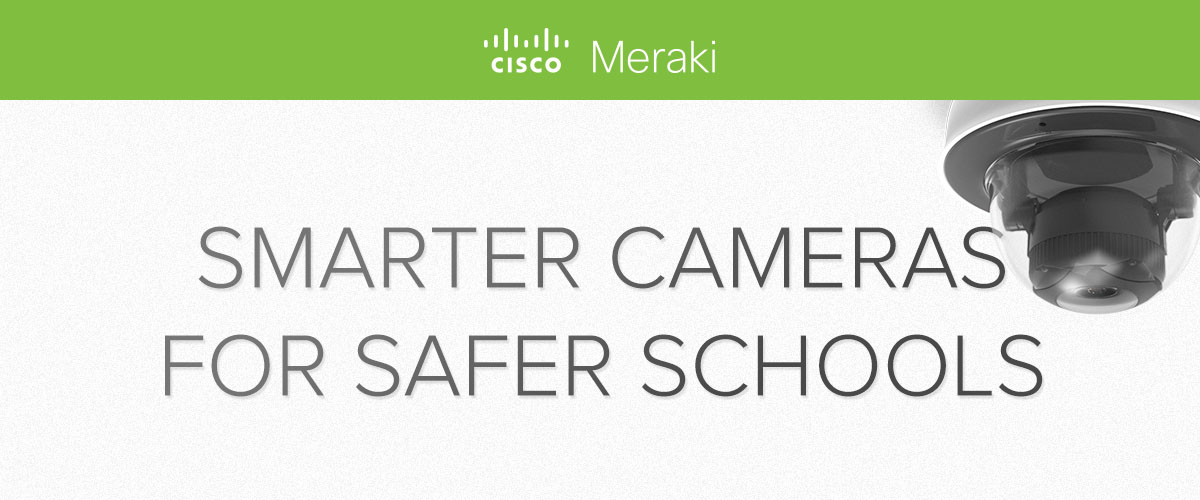 Making K-12 schools and higher education institutions safer with reliable, smarter security cameras — now available at exclusive education pricing in the United States.
Imagine managing your school's security cameras from an intuitive, web-based dashboard with no NVR, no software downloads, and secure remote access to video footage from anywhere. Sound too good to be true?
Cisco Meraki MV security cameras are changing the way schools think about video surveillance. With Meraki MV, schools can keep students safer by proactively helping with threat detection and security and IT teams can make informed decisions with integrated analytics, which require no servers. MV is easy to deploy and manage, and specifically built with lean IT teams in mind. Here are five reasons why you should consider Meraki MV security cameras for your school or campus' next deployment:
Simple Deployment: With zero-touch deployment, using just serial numbers an administrator can add devices to the Meraki dashboard and begin configuration before the hardware even arrives on campus. Ship cameras directly to each school site and have them up and running quickly.
No NVR: All of the video footage is locally stored and encrypted on the camera, removing the need for expensive and complicated NVRs or DVRs. This not only adds additional security, but allows for simple camera deployment and management. It also means districts can easily scale from one school deployment to 50, without breaking a sweat.
Web-Based Monitoring: Manage your security cameras from the same intuitive, web-based dashboard where you manage the rest of your Meraki products. MV removes the need for a security monitoring room or complex VPN configuration; all you need is a web-browser to watch and monitor video footage. Easily make custom video walls and find important events with Motion Search all from the dashboard. Plus, the dashboard cuts down on training time for the administrators and staff interfacing with the system.
Granular Access Controls: It's not just the security guard who needs access anymore. From the principal or president down to the teacher or custodian, give different people customizable levels of access to all of the school's cameras, or select cameras by tag, in just a few clicks.
Built-in Analytics: MV goes beyond just security; it utilizes a powerful onboard processor to analyze video and provide valuable insights without the need to send those video files to the cloud or a local server. Easily see where students are congregating or walking with motion heat maps. Detect how many people are in a classroom or hallway with people detection.
Schools across the world are deploying Meraki MV to simplify security camera management and keep their students safer. At Reading School District, CR Hiestand and his team use the Motion Search tool to isolate incidents and find what they are looking for in under 20 minutes, rather than searching through hours of video footage. Plus, security guards, principals and school administrators can view footage from a tablet or PC, without having to go to the video monitoring room. At Sweet Briar College, Aaron Mahler has indoor and outdoor MV security cameras deployed across the campus to keep students safe, while providing network admins with an easy to manage solution through an intuitive web-based interface they can access from anywhere.
From May 9th until October 27th, 2018, Meraki is offering exclusive pricing for MV security cameras for education in the United States. Just contact your Meraki sales rep to get started!
To learn more about Meraki MV for education, watch the webinar recording.
For more information about Meraki MV, read our Meraki MV for K-12 Solution Guide or Meraki MV for Higher Education Solution Guide.
Source: Cisco.com Written by: Carly Botelho – Marketing Campaigns Manager, Public Sector