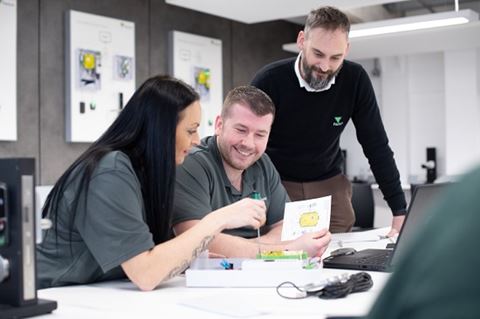 Due to global changes in energy supply, prices of electricity and gas have risen significantly this year. Many people are looking for ways to reduce energy consumption and, according to Paxton, smart security systems can be a useful tool to achieve this.
The international security technology manufacturer, Paxton, has created an installer guide that includes tricks and tips on how their access control systems can help users save energy. Installers can now book to learn in depth about Paxton products' energy-saving functionality in their free-of-charge training sessions.
Andy Waller, Paxton's UK Training Manager, explains: "The key to our training is introducing our products' features to installers, and guiding them to explore the functionality that helps their customers in real-world situations.
"Our systems can help Paxton users to save energy, and we want to help our installers relay that message."
Net2 is Paxton's flagship IP networked access control software, whilst Paxton10 is a next-generation access and video management solution. Both systems have the potential to limit energy usage. In the training sessions, installers will have a chance to get one-on-one guidance on installing the products and configuring systems.
Powerful automated actions
Triggers and Actions is a feature of Net2 and Paxton10 that enables automated actions in a building. These can be set to help provide increased functionality of the site and allow integration of other building systems. An example could be when the last person leaves the site at the end of the day, the systems can be set to register this and turn off lights, heating or provide air conditioning control as desired. Installers get to set up Triggers and Actions during training and receive personal assistance from the Paxton trainers.
Andy said: "Triggers and Actions is a powerful, but sometimes underused feature. I often get feedback from installers saying that they are surprised by how much the systems can do. This is a great example of how our training raises awareness of the full potential of the systems."
Paxton Connect to saves on wasted journeys
Another energy-saving tool that is covered in Paxton's training is their Paxton Connect app. It enables system administrators to manage sites remotely from a smartphone or tablet. If the lights or any energy consuming appliances are left on after working hours, building managers can simply login the app and turn it off.
Andy said: "The Paxton Connect app gives system administrators the ultimate convenience in managing sites. It helps minimise unnecessary site visits to save time and fuel. Most importantly, there is no cost to use the app."
Limiting energy consumption
In addition to software, Paxton offers physical products that can be used to help reduce energy consumption. For example, the Net2 Energy Saving Readers, which require a user to insert an access card and acts like a power switch. When a valid access card is inserted, the appliance turns on. When the user leaves and takes the card, it then switches off all connected devices.
Andy explains: "The energy saving readers were considered originally for controlling lights and electricity in settings like hotels. Utilising them now in different ways, they can be used to manage access to appliances and machinery, therefore can help limit energy consumption and also increase personal safety on a site."
The Paxlock Pro series is Paxton's smart wireless door handles, which are powered by battery and will enter a sleep mode when not in use. The built-in capacitive sensors will wake the unit when a user's token is presented, and operation is required. This makes Paxlock Pro a low-energy yet powerful security door handle.
Andy says: "When a large site has many doors, Paxlock Pro is a cost-effective product to keep a building safe and secure. It does not consume mains power and only uses minimal battery power when in sleep mode."
Source: SECURITY WORLD MARKET