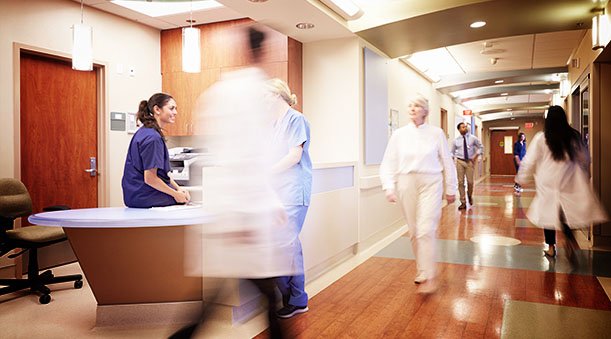 How can cloud-based access control support healthcare security professionals step up levels of protection and data management, while maintaining and improving day-to-day security operations? Ross Wilks, Head of Marketing Communications, ACRE International, provides his view.
Healthcare facilities face some of the most intense challenges that exist in working environments. Several systems and solutions can be deployed throughout a facility's security infrastructure to help manage these challenges and risks. Cloud-based access control is one of the most critical security measures organisations can implement, especially with the digital transformation across significant verticals. Therefore, the benefits that the cloud can offer those in the healthcare vertical should not be overlooked.
Most hospitals (92%) already use a version of electronic access control that typically operates in main entrance doors and exits based on their location and access level. While this is an excellent step in the right direction, unfortunately, it does not solve the challenges at a level that a fully comprehensive cloud-based system could.
How the cloud overcomes healthcare challenges
Numerous sections of a facility have complex requirements for role-based access control. For instance, ease of access within managed entrances is crucial to medical crash teams, as is the demand for a zonal access control lockdown in a communicable infection outbreak. Susceptible areas like drug stores and blood banks also demand limited access based on hierarchy.
Additionally, hospitals require a system to facilitate them to carry out these regulations while dealing with immense volumes of traffic caused by staff, patients, and guests. In modern-day situations like this, a traditional key-based system will struggle to keep up with the demand of such a busy environment. This is where cloud-based access control truly shines.
Managing Data
Hospitals have hundreds if not thousands of employees who need varying access levels that are established via their positions. Custom configurable data management systems that combine with third-party devices used by teams like human resources, personnel management, and IT can assist in streamlining and automating workflows between systems. This helps security administrators in ensuring the correct people have the proper access. Additionally, it also decreases system administrators' workload by eliminating expensive data entry errors that can potentially result in threats to the protection and safety of patients, guests, and staff. The result is the capability to streamline data input with the press of a button.
The need for integration will persist in propelling innovation in access control, not only for security but also for event management, human resources, and software tools. Active facilities and aligned stakeholders require the capability to give automatic permissions to save time and energy on manual input and make changing authorisation efficient and straightforward.
The cloud essentially eliminates traditional hardware and updates security systems with minimal work from the end-user. One of the significant benefits of cloud-based access control is that it regularly leverages the power of data. Executing a cloud-based system empowers staff to collect more data beforehand and better equips them to control their facility efficiently.
Integration
The integration between access control and systems like video surveillance and security management systems (SMS) plays a crucial part in the capability of administrators to make swift, impactful decisions regarding an emergency.
Choosing an access control system that is cloud-based and has an open API architecture allows for greater integration. Combining video and access control boosts situational awareness, enabling managers to evaluate potential threats. For instance, access control systems can induce alerts such as scanned invalid IDs or a doorway being forced open and held. However, coupling those alerts with video allows the operator to construct decisions based on what is occurring without sending security to the location of concern. This enables the action taken to be quick and decisive. And these security team members can now be used for extra coverage in areas like active lobbies or to strengthen perimeter security.
Additionally, SMS can combine a hospital's access control technologies, digital video, and alarm monitoring systems into a single, streamlined solution. One advantage of this type of solution is system scalability and flexibility to serve multiple sites, which is typical for healthcare facilities with various facilities in different geographic locations requiring central monitoring of security systems.
Mobility
Healthcare leaders are searching for mobility. Utilising a mobile application to assist in immediately granting or freezing access or changing permissions is critical to security executives in healthcare. Additionally, with extensive hospital campuses, security teams and professionals need to stay on the move throughout a facility. Mobile applications allow these security officials to control systems remotely without needing to be in a fixed location, giving healthcare facilities and hospitals the flexibility to provide access as needs grow or change.
We are seeing that biometrics and mobility are becoming more and more popular. While mobility includes the migration to mobile credentials, there is also a push to rethink the monolithic mobile app approach and provide the end-user with a customised app based on their overall user experience. By utilising cloud-based systems, an organisation gains the flexibility to scale alongside their security system and is not limited by a lack of storage or outdated hardware.
Protecting patient privacy
At the heart of any healthcare facility is safeguarding patient privacy. Cloud-based access control creates an opportunity to secure patient data under HIPAA, protecting the confidentiality, integrity, and accessibility of electronically protected health information. To ensure compliance, a cloud-based access control system could be integrated into the mobile devices, iris, or fingerprint scanners that facilities use to ensure that confidential data stays guarded while managing video data and alarm systems under a single, streamlined design.
For healthcare institutions to take their security and data management to the next level, they must be able to act quickly and effectively, and a cloud-based access control system is the best way to do so. By giving security personnel the ability to lock down portions of a building at the push of a button or communicate quickly through an easy-to-use interface, security manufacturers can help these institutions meet their security needs according to the rules and regulations set in place more efficiently than ever before.
Source: IFSECGLOBAL