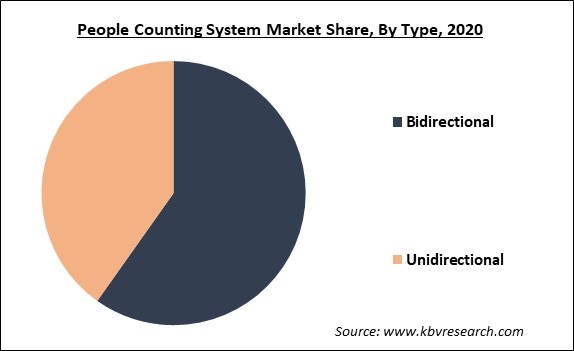 The global people counting system market size is estimated to be USD 1.1 billion in 2023 and is projected to reach USD 2.0 billion by 2028, at a CAGR of 12.9%. This is according to the latest information from researchers Marketsandmarkets, whose analysts find that the growing implementation of people counting system in transportation hubs, libraries, and retail stores as well as rising demand of people counters to monitor marketing effectiveness are responsible for the growth of the people counting system market. Additionally, the rising installation of people counters at workspaces is also responsible for the market's growth.
Hardware components of a people counting system include thermal cameras, infrared sensors, fixed cameras, fixed dome cameras, and pan-tilt-zoom (PTZ) cameras; and it is this subsector of the market that is projected to have the strongest growth over the forecast period. These hardware components can be easily integrated with people counting software to build a complete people counting system. These systems are used to count the number of people passing by a particular area or doorway. People counting systems are optimized for the hardware and easy software integration with optical analytics software. The increasing demand for providing accurate count of visitors at particular locations is responsible for the growth of the segment.
Bidirectional systems most popular
Bidirectional counters track individuals coming and departing simultaneously but record the counts independently for greater accuracy. Compared with unidirectional people counters, bidirectional people counters provide an accurate count of the customers that visit the place in a given timeframe as well as provide real-time occupancy information. The demand for bidirectional people counting systems is rapidly increasing in the retail and transportation hubs owing to their capability of providing an hourly count of people, which results in the lowest dwell time of visitors.
Thermal imaging also a strong area
Thermal imaging people counting systems count the number of individuals based on their temperature differences from the environment. They are equipped with a variety of thermal sensors to detect the heat source. Larger facilities such as supermarkets, shopping malls, universities, and museums have more complicated layouts and require accurate people counting systems. The ability of thermal imaging people counting systems to detect objects based on their temperature makes them suitable for these facilities. The increasing adoption of thermal imaging in large facilities is likely to increase its adoption in the coming years.
Retail dominates
The retail subsector is a significant adopter of people counting systems, as this technology can be used to enhance the shopping experience as well as to efficiently understand customer behaviour. These counters are also used to precisely track visitor statistics, which can then be merged with financial data. This data helps in determining the number of goods bought and revenue generated per visitor. Retailers can use this data to track the sales of stores as well as analyse the success of promotional activities. Thus, the increasing number of supermarkets and shopping malls in emerging nations is responsible for the growth of the market.
Asia Pacific expected to lead the geographical growth
Asia Pacific is expected to be the leading region in the people counting system market during the forecast period. The major factor driving the growth of the people counting systems market in the region is growing economies such as China and India and emerging opportunities in different sectors such as retail, transportation, and hospitality. The region has some of the largest malls, such as Central Pattana Public Company Limited (Thailand), Berjaya Times Square (Malaysia), New South China Mall (China), and SM Supermalls (Philippines), which have adopted people counting systems. Also, the presence of a large number of emerging players is creating intense competition, which directly benefits customers. All these factors are expected to spur the growth of the people counting system market in the region in the near future.
Key players
Major companies operating in this people counting system market include Axis Communications AB, Iris-GmbH infrared & intelligent sensors, Viviotek Inc., Retailnext, Inc. (US), Hangzhou Hikvision Digital Technology Co., Ltd., V-Count, Eurotech, and Irisys or Infrared Integrated Systems Ltd. 
Source: SECURITY WORLD MARKET