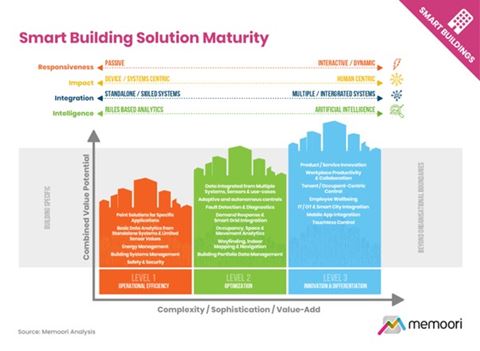 Memoori has released new research on the subject of IoT devices in commercial real estate, which focuses on the installed base of IoT devices and the market's route to maturity. This, the first of a two part report, provides a completely fresh assessment of the industry based on the latest information, and will be followed up in Q2 of this year with the second and final installment which will look at market sizing data and the competitive landscape.
Memoori defines the building Internet of Things as a network connecting all building services which monitors, analyses, and controls the smart building without the intervention of humans. The research estimates that the commercial buildings sector currently represents around 11.8% of the total installed base of IoT devices worldwide, and forecasts that the number of IoT devices used in commercial smart buildings will grow at a 13.7% CAGR between 2023 and 2028, reaching an estimated 3.25 billion devices by 2028.
The most connected IoT devices, in terms of system application, are those related to security & access control, and the analysts suggest this area will grow at 11.9% CAGR to reach 646 million connected devices by 2028. HVAC and building energy management devices account for the 2nd biggest percentage.
The rapid pace of IoT innovation necessitates interoperability across all industries, connecting customers, businesses and products. The research strongly suggests that the move towards open standards facilitates this interoperability of IoT systems, which is essential for unlocking the true value of IoT.
Memoori estimates the number of connected IoT devices installed in commercial smart buildings was over 1.5 billion in 2022. Growth in the total installed base is driven by several factors. A greater proportion of companies are now moving beyond the conceptualisation and planning phases into the adoption phase for their IoT deployments. In addition, surveys indicate a notable recent rise in the average number of IoT devices being deployed per project, with many device rollouts now including thousands or even tens of thousands of devices.
In the context of smart building systems, Artificial Intelligence (AI) and Machine Learning (ML) technologies are increasingly serving as innovative tools empowering building operators to collect, process, and utilise data within the building. Generative AI models, like GPT-4, offer potential benefits for BIoT systems in terms of natural language processing (NLP) and improved human-AI interactions. Integrating NLP with BIoT systems and data can provide simplified user interfaces, increased adoption, enhanced data analysis, and improved scalability.
Factors shaping the BIoT industry of the future
The BIoT industry focuses on enhancing data value by improving systems integration and merging networks, systems, sensors, devices, and cloud-based software into a robust and secure architecture. This integration boosts scalability, and flexibility, and reduces costs. Analysts found that many in the industry advocate adopting a horizontal systems architecture, which uses open standards, open protocols, and non-proprietary solutions.
As of 2021, 33% of commercial real estate assets were still managed manually. The transition to higher levels of BIoT maturity is slowed by challenges such as legacy systems, cost, technical expertise, data privacy and security, interoperability, vendor lock-in, regulatory compliance, change management, and scalability. The research company advised that to facilitate this transition, organisations should adopt a gradual and phased approach to smart building development, prioritising a roadmap that delivers tangible benefits to stakeholders.
The commercial real estate sector faces numerous challenges and uncertainties as it contends with the long-term shift towards remote and hybrid working practices and macro factors such as inflationary pressures on energy, labour, and materials.
The slow and uneven recovery in global office markets is creating a divide between prime and secondary office buildings. Landlords that invest in sustainability credentials, amenities, and digital connectivity will gain a competitive advantage and improve future returns, while outdated buildings risk becoming obsolete.
Source: SECURITY WORLD MARKET