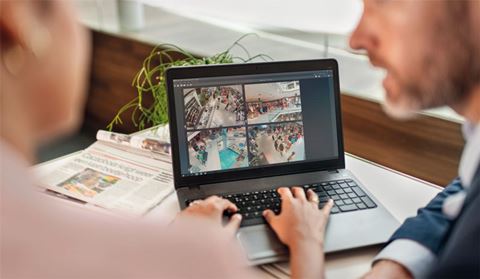 More and more data are gathered by cameras and other security products and video analytics and algorithms are becoming smarter and more efficient. This leads to a point where the data can be used to streamline end customers' operations.
According to the market research company Omdia, the market for video surveillance is recovering quickly after the suppressed demand in 2020 due to the pandemic and the revenues will grow to 31.9 billion dollars by 2025 with a total CAGR of 7.1 per cent between 2020-2025.
Omdia expects average selling prices of video surveillance equipment to increase in the short term because of US-China geopolitical tension and supply chain constraints from the Covid-19 pandemic increases pressure of vendor margins. However, in the long term, higher average prices of network cameras are also expected, because of a greater adoption of the network camera products using AI deep learning acceleration and inference at the endpoint.
Oliver Philippou, Research Manager, Physical Security at Omdia says: "The semiconductor shortfall driven by geopolitics and Covid impact has affected all industries, and video surveillance is no exception. This disparity between supply and demand is expected to last until mid-2022."
Increased efficiency
Another market research company, Marketsandmarkets, emphasises that the growth for edge-based video analytics will be greater than for server-based video analytics. New powerful in-built chipsets in cameras offer higher computational capabilities at the edge and more sophisticated video analytics such as queue management and heat maps offer new opportunities for businesses to increase sales and improve traffic intelligence, according to Marketsandmarkets. Advancements in deep learning and its integration with the edge system are also expected to drive the adoption in the coming years.
Marketsandmarkets writes: "Deep learning takes machine learning to another level based on neural network principles that impersonate the complexity of the human brain. Earlier, the functionality was mainly available at server-side processes, which would require videos to be decompressed and processed. Edge-based devices need external inputs to learn from before proving as a useful tool to recognise known objects and behaviours".
IoT and smart city projects
Marketsandmarkets believes the rise of smart cities and IoT are expected to provide future growth opportunities for the video surveillance market since "modernised cities require innovative solutions to overcome long-term security challenges". The company suggests that IP cameras with increased hardware functionality and utilisation of AI analytics in video monitoring systems are helping to deal with the increase in security threats worldwide. However, privacy and security concerns over video data restrain the market growth.
The APAC market is expected to account for the largest share of the video surveillance market during the next five years. Growing population density in major cities projects are two reasons for this and the increasing number of retail chains, small businesses, residential apartments, and hospitality businesses, as well as government initiatives in various countries to install video surveillance cameras in public places, such as cities, schools, colleges, religious places, and airports, is driving the market growth.
Marketsandmarkets believes the increasing population in developing countries such as China and India, as well as decreasing costs of video surveillance equipment, is creating significant growth for smart video surveillance solutions.
The use of data
Anders Karlsson, Bosch Building Technologies Product Manager for security products in the Nordics, thinks we will see a large increase in intelligent algorithms that will be available in the market. And he believes that the purpose of many of them will be to manage organisation and optimise the operations.
He says: "With traceability and a proactive flow of information, you will know if you need to reduce staff on a certain day or add staff to increase sales. This generates cost savings and increased revenue and the cameras bring added value."
Until now, Anders Karlsson believes that the algorithms have not been good enough and that a lot of competence and data is required to succeed. For example, in retail, the algorithms have had problems with people using shopping carts and also with assessing age and gender. In order for video analysis of business data gathered from security cameras to really make an impact, he believes that the knowledge must increase and industries must meet and find new forms of cooperation.
Implementing continuous measurements of flows and analysis contribute to streamlining the end customers' operations. But many people are still relatively unaware of what can be done with the help of analysis of data collected from security cameras and other security products.
Christopher Åkesson, Sales Manager Nordics for Milestone Systems, states that there are more and more requests for video solutions outside of the traditional security applications and increased business efficiency is the major gain that end customers can achieve by using the collected data more effectively. Unmanned stores are an example of this and the fact that video analytics and perimeter protection in many places have replaced guards is another.
A better customer experience
Stadiums and venues are other examples of where intelligent security solutions can improve not only security and safety, but also the customer experience. Genetec acknowledges this and believes that stadium managers must consider the whole customer experience: from parking their car, finding snack bar visits. The company is therefore developing new procedures to streamline getting from A to B while limiting line-ups and crowds. Sticking a few arrows on the floor is just not enough.
Rather than having people standing in line for 20 to 30 minutes while waiting to scan tickets and go through security, some venues are using people-counting analytics within their digital video surveillance systems to minimise wait times. The software can be configured to notify the appropriate staff if the line exceeds the acceptable number of people, so they know to open another gate or redirect the crowd. On top of this, ANPR, access control, intercom systems, heat mapping, and other tools are essential to gather data on guest behaviour and ensure sensitive areas are secured.
Fast growing verticals
Video surveillance has become an important part of the transportation and logistics vertical and this is one of the fastest-growing verticals right now according to Marketsandmarkets.
The company states: "The various benefits of video analytics for the transportation and logistics vertical are the elimination of overcrowding, behaviour analysis, enhanced safety measures, incident recording, and detection of blind spots. Video analytics can contribute to the enhancement and betterment of this vertical for commuters while providing improved safety benefits".
Video analytics features like facial recognition, object tracking, unidentified object detection, cargo and train carriage recognition, and intelligent traffic monitoring, can help transportation and logistics companies prevent disasters and detect emerging threats, which may lead to infrastructure destruction or vehicle crashing, resulting in the loss of life, according to Marketsandmarkets.
Easier for the operators
The increasingly intelligent security systems also make alarm centres and SOCs (Security Operations Centres) more important and more efficient. Hanwha Techwin Europe's Product and Marketing Manager, Uri Guterman, points out that operators can now take advantage of AI technology to more effectively track suspects and objects. PTZ cameras with pre-set patrol rounds are one example, where the cameras' improved autotracking deep learning-based video analysis can be triggered by an alarm and lock onto people or vehicles.
Uri Guterman concludes: "AIbased auto-tracking offers a very high level of accuracy because it is not distracted by video noise, waving trees, moving clouds or animals. In simple terms, it ignores these common causes of false alarms because it is only looking for people or vehicles."
Source: SECURITYWORLDMARKET