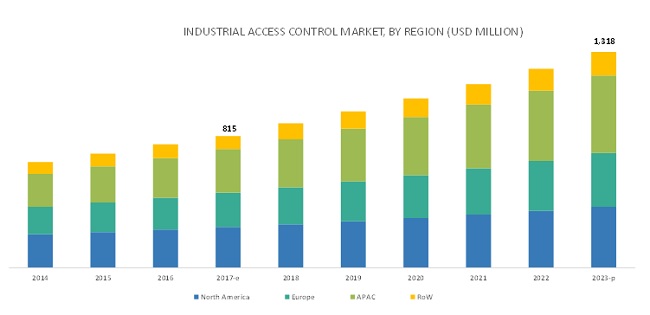 The industrial access control market is predicted to be valued at US$ 4,285.0 Million in 2023 and US$ 10,363.1 million by 2033. Over the projection period, sales in the industrial access control market are expected to increase at a CAGR of 9.2%. This is according to the latest information to come out of specialist research company, Future Market Insights.
The industrial access control market presents numerous exciting opportunities for businesses operating in this sector. An opportunity lies in the integration of access control systems with emerging technologies like artificial intelligence (AI) and machine learning (ML). By leveraging AI and ML algorithms, access control systems can analyse patterns, detect anomalies, and enhance overall security by continuously learning and adapting to evolving threats.
The research suggests that amazing opportunity lies in the expansion of access control solutions into new industrial sectors. While access control is commonly used in sectors like manufacturing and energy, there is potential for growth in industries such as healthcare, transportation, and logistics. These sectors require stringent access control measures to protect sensitive data, secure critical infrastructure, and ensure regulatory compliance.
The rising adoption of cloud-based access control solutions offers immense potential. Cloud-based systems provide scalability, flexibility, and remote management capabilities, allowing businesses to efficiently manage access across multiple locations. The integration of cloud technology also opens doors for new features like real-time monitoring, data analytics, and predictive maintenance, enabling proactive security measures and operational efficiency.
The findings show there is an opportunity to develop interoperable access control solutions that seamlessly integrate with other security systems such as video surveillance and intrusion detection. This integration enhances situational awareness and enables a holistic approach to security management.
Key takeaways from the research offer the following statistics:
As per FMI analysis, the United States currently holds the leading share, accounting for 18.4% of the global market in 2023.
Germany emerged as a significant player in the industrial access control industry, with a market share of 9.2% in 2023.
Japan's industrial access control industry is expected to hold a share of around 5.9% in 2023.
The hardware segment is expected to dominate the industrial access control industry with a market share of around 59.3% in 2023.
The fingerprint biometrics systems are expected to contribute a maximum revenue share of 34.2% in the global market of industrial access control in the year 2023.
Revolutionising the manufacturing process
Leading players in the industrial access control market are revolutionising the manufacturing process through innovative technologies and advanced solutions. They are leveraging the power of automation, artificial intelligence (AI), and the Internet of Things (IoT) to enhance security and streamline access control systems. These advancements enable seamless integration with existing industrial infrastructure, ensuring efficient and secure operations.
Key players, according to the findings, are developing cutting-edge biometric authentication systems, smart cards, and cloud-based access control platforms to provide robust security measures. They are also focusing on user-friendly interfaces and scalable solutions that can be customised to meet the specific needs of industrial facilities. By combining technological advancements with rigorous security measures, prominent players are transforming the manufacturing of industrial access control systems, making them more reliable, flexible, and effective in safeguarding critical assets and ensuring operational efficiency.
By way of example to demonstrate the progress and recent developments in this sector, the analysis cites that in May 2023, Honeywell and Arcadis are partnering to offer energy optimisation and carbon emission reduction solutions for commercial buildings globally. Initially targeting five projects, the collaboration will provide end-to-end tools and services to accelerate clients' progress in achieving their carbon reduction objectives.
Source: SECURITY WORLD MARKET