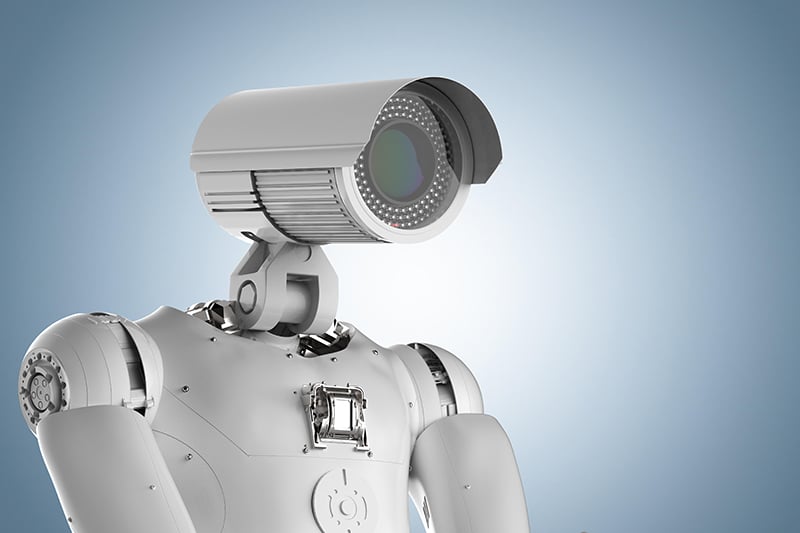 We've all heard the term 'Artificial Intelligence', or 'AI' for short. There is a widespread acceptance that it is set to have a significant impact on the physical security sector in the years to come, if it isn't already… But what does it really mean and where is it being used? Viewpoints on the subject from experts are often fascinating, but don't always relate to the day-to-day uses of AI – IFSEC Global decided to go back to basics and provide an overview of its role in security.
Artificial Intelligence (AI) is reshaping the security sector. With the Security Industry Association (SIA) citing AI as the predominant trend for a second year in a row, there's no doubt that new technology is transforming the way we work.
According to a Microsoft-Accenture survey, 89% of leaders agree that digital transformation is important. So, what kind of technology should be on our radar? And where can AI add value to security and safety operations?
Here, we investigate what we really mean by the term 'AI' and how it's developed over the years. If, as many would argue, we now appear to have come to the point where AI is genuinely changing the world of physical security, what is its impact on the processes and people that work in the sector?
What's the difference between artificial intelligence and machine learning?
AI and machine learning are intrinsically linked. AI is the branch of computer science that builds machines capable of human behaviour. Machine learning, on the other hand, is "the science of getting computers to act without being explicitly programmed", according to Stanford University,
In other words: AI tells a system what to do, and machine learning helps it to learn on the job.
For example, machine learning will teach a video surveillance algorithm to distinguish between objects that pose a risk, such as people and vehicles, and non-threatening objects, such as animals or rubbish.
How has AI in security developed?
Over the last few decades, the most common application for AI has been video surveillance. Video Analytic (VA) applications, for example, have been detecting suspicious activity (e.g. abandoned baggage) since the 1990s. However, unreliable algorithms often trigger false alarms, as a result of harmless environmental factors such as a moving branch or animal.
To date, the need for people to scan hours of footage after a security breach has taken place means that much of this technology has served as a retrospective forensic tool.
But times are changing. Whether it's in video surveillance, access control or risk management, AI is enabling the industry to switch its focus from reactive to proactive operations.
"Security leaders who do not embrace a digital mindset risk becoming business irrelevant," says Michael Foynes, Senior Director at Microsoft Global Physical Security Operations.
"Cloud computing, artificial intelligence and machine learning are blurring the lines between logical and physical environments. Traditional security risk management and threat detection are quickly becoming obsolete."
For companies struggling to recruit security professionals, machine learning that mimics human behaviour over large areas will be a relief as it negates the need for hundreds of operatives. Crucially, combining AI with skilled security staff means that people power can be used where it's most effective.
As an example, the French Government has announced that it is 'fast-tracking' special legislation to use AI in video surveillance for the 2024 Paris Olympics. While the ethics of the decision remain under scrutiny, it has been highlighted that a key reason behind the implementation is due to an estimated 30,000 deficit of security officers required to properly secure the events.
But is the AI revolution coming fast enough? According to Microsoft and Accenture, over three-quarters (78%) of leaders agree that the digital transformation of physical security will generate a meaningful ROI – but only 30% deemed it urgent – suggesting that security is lagging behind other sectors.
How easy is it to use AI?
Clearly, upgrading security equipment across the board isn't always workable. But some suppliers are keen to emphasise the importance of software over hardware. Hakimo, a Silicon Valley technology company, produces access control and health checks systems which claim to integrate superior AI software with existing hardware.
But when is the right time to upgrade stock?
The new wave of AI claims to answer some of the sector's biggest headaches. Fisheye cameras identify movement and re-adjust to reduce motion blur. In identity management, cyber and physical security is converging with the use of dynamic behavioural user profiles that combine network security (e.g. profiles) and physical access (e.g. badges).
However, even the latest AI needs teaching – and no technology is without its faults. "Modern and sophisticated technology makes security staff's life easier – but a human will always be involved in the process; interpreting the alarm and using their intuition to determine the appropriate reaction", said Kevin Waterhouse, Managing Director at VCA Technology, in a previous article for IFSEC Global.
Common applications for AI
The most common applications for AI in security include:
Video surveillance
According to Omdia, 64% of all network cameras will include AI by 2025. This technology is game-changing for video surveillance as it delivers better object detection, fewer false positives and enhanced image clarity.
ANPR
Even marginal gains in well-established technology such as ANPR can dramatically boost performance. Better accuracy and higher resolution images are improving hit rates and new AI even confirms the object is a vehicle, rather than mistaking a signpost or bollard, before analysing its registration number.
Drones
AI-powered drones can cover extensive areas and process huge amounts of data. Devices can be used simultaneously to map an environment and identify anomalies – all in a matter of minutes.
Applied Aeronautics "Albatross" long range drone has been used on every single continent and has helped with everything from marine life protection to humanitarian aid, for instance. The drone can fly for four hours straight and reach speeds of up to 90 miles per hour.
Access control systems
AI has turbo-charged access point security, with touch-free systems minimising common challenges such as false positives and identity theft. Deep learning – a subset of machine learning – identifies and remembers behavioural patterns, whilst continuously understanding why security breaches happen.
Biometrics & facial recognition
Detailed physical biometrics, such as facial, finger and iris recognition, can be mapped against large data sets. AI also broadens a system's scope to include behavioural factors (e.g working patterns) to tackle fraud, identity theft and security risk.
How is AI used in different sectors for security purposes?
AI enhances security in every single sector, including:
Retail
AI-driven data and analytics helped retailers to track customer numbers during the pandemic. As well as reducing security issues (e.g. shoplifting), new technology is streamlining retail operations by ensuring that stock makes it onto shelves as quickly as possible and tailoring the customer experience in-store.
Law enforcement
Live Facial Recognition (LFR) is being tested by some police forces. The Metropolitan Police states that this kind of AI is "a carefully deployed overt policing tactic to help locate a limited number of people the police need to find in order to keep London safe." Whether the regulatory environment will allow for this kind of technology remains to be seen.
Healthcare
AI-powered video technology and access systems mean that secured areas (e.g. wards or medication) are only accessible for certain individuals. On a wider scale, physical and behavioural biometrics can locate a lost and vulnerable person in a public place. Elsewhere, AI is helping to reduce admin and understand complex treatment needs by scanning patient records.
Business
Detecting strange behaviour using video surveillance or access control systems is a win for office environments. For example, if an employee leaves a room, biometric AI can detect inconsistent behaviour and restrict unauthorised access. At entry points, AI can flag the same card being used at multiple locations at the same time – or even diagnose faulty hardware
Built environment
According to Clarion Security Systems, there is an estimated 7.4million CCTV cameras in the UK – or one camera for every 11 people. In the future, smart cities could see traffic monitored by ANPR, people kept safe via video surveillance and access management seamlessly automated. The use of video surveillance and drones at large-scale events (e.g. the Paris Olympics) will test whether the public is ready for AI to become part of their daily lives.
Logistics
AI cameras can recognise a variety of objects and even trigger tracking processes in networked systems. At a micro-level, threat detection software uses AI to scan packages and mail for threats – without the need for x-rays. Instead, desktop scanners use T-rays to produce dynamic 4-D images in real-time.
Source: IFSECGLOBAL