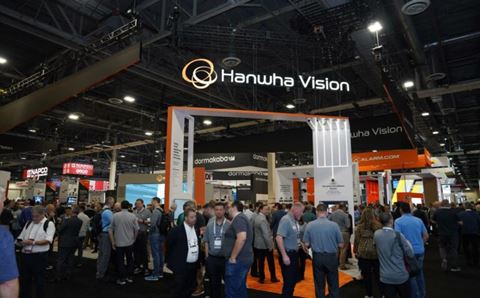 With a new expansion strategy, and under its new company name, Hanwha Vision, presented regionally customised solutions for the first time at the security trade shows ISC West 2023 and Secon 2023 held simultaneously at the end of March, in the U.S. and in Korea, heralding the company's expansion into the vision solutions business.
"By adding innovation to our core competitiveness in vision technologies, we will solve the problems faced by our customers and provide vision solutions that add new value," said Soon-hong Ahn, President and CEO of Hanwha Vision. "As we expand our business from surveillance monitoring to data analysis, we will provide customised information through big data analytics and actionable solutions that not only prevent incidents but also respond to them in real time. Moreover, our vision solutions will be instrumental in advancing customer's operational strategies."
Through its world-class optical design and image processing technologies, Hanwha Vision has been steadily preparing for its future business by strengthening its global sales, production, research and development capabilities along with investing in future growth engines, such as artificial intelligence (AI) and cloud, based on its core competitiveness. As a global business, according to the company, Hanwha Vision has maintained its competitive edge and business stability despite the rapidly changing environment brought about by the pandemic.
Along with its new name, Hanwha Vision also developed its new business strategy, emphasising its leading capabilities in vision solutions.
First, Hanwha Vision will provide a platform to collect, analyse and integrate data from various devices and sensors, leveraging its partner solutions. By acquiring data collection devices, such as AI cameras and IoT sensors as well as event-detection applications and AI-training solutions, Hanwha Vision will acquire vision data and deliver useful insights through data analytics.
Second, in the area of real-time video surveillance, Hanwha Vision plans to expand the scope of technologies to offer solutions that will not only respond to events but also predict them. Big data collected through various sources will be analysed using AI and cloud technologies to predict events to provide prevention or early resolution.
Hanwha Vision is expanding into a platform business to provide solutions that can support customers with practical help in various industries. The company will introduce solutions targeting urban safety and traffic management (smart city), process monitoring and productivity improvement (smart factory) as well as efficient store operation and sales enhancement (smart retail). The solutions will be gradually expanded to other industries.
"Over 30 years, Hanwha Vision has grown into a global company through strategic partnerships," said Ki-cheol Kim, Chief Sales and Marketing Officer at Hanwha Vision. "We will continue to strengthen our ecosystem to grow together based on trusted relationships with our partners."
Hanwha Vision, which announced its new name in March, will gradually change the names of overseas subsidiaries, products and solutions based on its business needs in each market.
Source: SECURITY WORLD MARKET