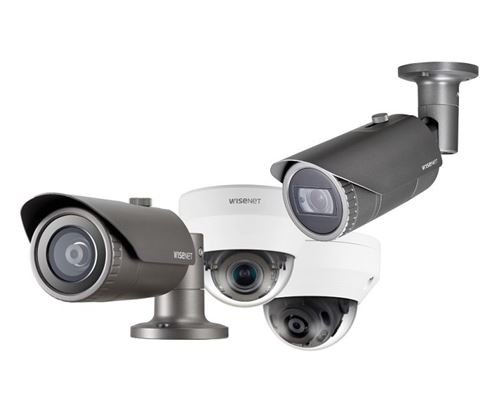 Hanwha Techwin is adding 12 new 4-megapixel cameras to its Wisenet Q series. Together with existing 2 and 5-megapixel Wisenet Q models, the new NDAA compliant cameras are designed to offer an affordable solution for virtually any high camera count video surveillance application.
The H.265 cameras, which have built-in IR illumination, are equipped with an Open Platform chipset and have a suite of intelligent video analytics (IVA), which includes tampering, directional detection, defocus detection, virtual line, enter/exit and motion detection.
Other key features include wide dynamic range (WDR), which performs at up to 120dB to produce clear images from scenes containing a challenging mix of bright and dark areas and Wisestream II, a complementary compression technology which when combined with H.265 compression, improves bandwidth efficiency by up to 80% compared to current H.264 technology.
The cameras support Power over Ethernet (PoE), which saves time and reduces installation costs, as it negates the need to run separate cabling and to install a power supply at each camera location. They also have an SD/SDHC/SDXC memory slot which allows up to 128GB of video or data to be stored at the edge, should there be disruption to the network. Video evidence, which might have been potentially lost, can therefore be retrieved when the network connection has been restored.
Uri Guterman, Head of Product & Marketing for Hanwha Techwin Europe, said: "The introduction of these new models, which supersede our existing 4PM cameras, means that depending on their requirements, customers can now specify any 2, 4 or 5-megapixel Wisenet Q series camera and benefit from advanced technology and innovative features that you would not normally expect to find built into keenly priced cameras".
Source: SECURITYWORLDMARKET