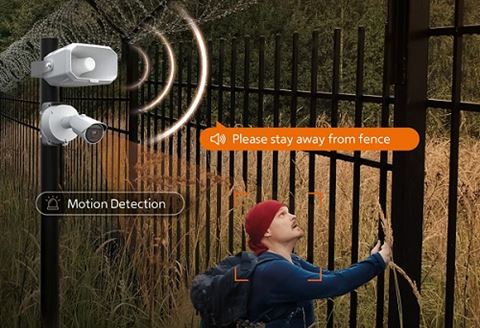 Hanwha Vision has launched a new IP Audio system. This brings a compelling new audio capability to Hanwha Vision's leading video surveillance offering, adding another layer of security for users and a further criminal deterrent, as well as providing retailers with performance-boosting opportunities. The system can be independently operated as a standalone solution or it can be linked to a video surveillance system. It also supports the Session Initiation Protocol (SIP) which is the Standard for Voice over IP (VoIP) systems.
It is suitable for any sized installation, ranging from one to 512 speakers. Up to 256 speakers can be accommodated without an audio server, with any number thereafter up to 512 speakers requiring an audio server.
The IP Audio system can broadcast real-time or pre-recorded messages, including Text to Speech messages issued by a control centre. In addition to public address announcements, these can prevent incidents of criminal or antisocial behaviour from happening. Messages can also be broadcast via a microphone.
A range of applications
The system can be used to broadcast messages or music in public areas including train stations, retail shops, hospitals, schools, and more. Not only does this provide a pleasant atmosphere but operators can easily transmit announcements when needed over the system.
When linked to video surveillance, the IP Audio system can complement perimeter protection with audio warnings if a potential intrusion is detected within a virtual area. If the system senses human activity in a restricted area that indicates a possible breaching of a fence, an audio message can be relayed asking any intruders to keep away.
Integration with the video surveillance 'dwell time' analytics offers several applications. For example, it will allow the detection of somebody who stands too close to another individual when using an ATM – at which point it would issue an audio warning advising them to maintain a more suitable distance. However, it can also offer opportunities that retailers can take advantage of. For instance, if a customer is standing looking interested at something for a long time, which activates the dwell time trigger, it is possible to broadcast sales messages to that customer about special offers in the store which may persuade them to buy.
Similarly, if a shop or shopping centre needs to be evacuated, instructions can be clearly issued over the system.
Flexibility and control
Operators can control when and how messages are broadcast — either pre-recorded in advance or live via a microphone. When integrated into a video management system (VMS), operators can select the camera they wish to trigger an event within the system. They can also select which speaker they want audio messages to come from. The system supports a number of languages including English, French, and German.
An intuitive dashboard allows operators to quickly see how different speakers are functioning, with a graphic bar showing the speaker's output signal. Operators can quickly confirm that a speaker is outputting sound as intended, even when they are not on-site.
Designed to blend in
The Hanwha Vision audio system features a range of horn, wall, and pendant speakers that are designed to blend in with the aesthetics of different restaurant and retail spaces. The pendant-shaped speakers SPA-P100B/W, for example, have a sleek appearance that can be hung from ceilings, while the SPA-W100B/W Wall speaker can be tucked away in an inconspicuous setting.
Pread Um (Suk Bong), Product and Marketing Director, Hanwha Vision Europe said, "With the new Hanwha Vision IP Audio system, users now have a seamless way of broadcasting pre-recorded and live audio messages for a vast array of applications including boosting security and sales performance, advising people of need-to-know information, and proactively warning would-be criminals. The system makes it easy for operators to manage an audio system, either standalone or as a part of a wider video surveillance system, enabling a fully integrated solution."
Source: SECURITY WORLD MARKET