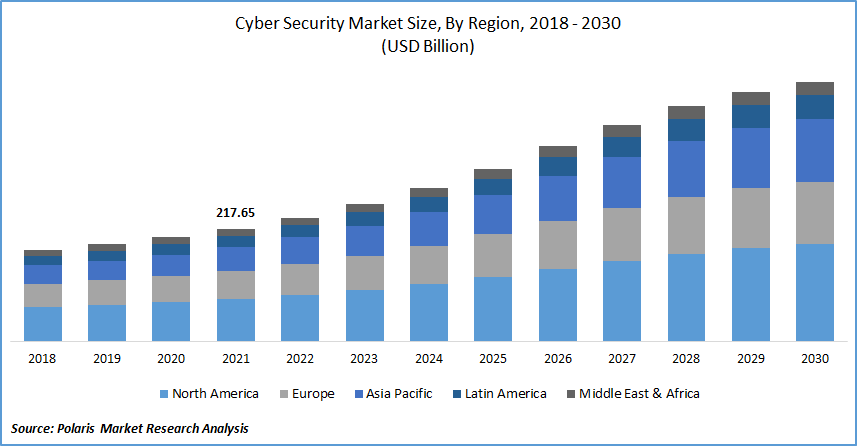 The global cyber security market size is projected to reach USD 500.70 billion by 2030, registering a CAGR of 12.3% from 2023 to 2030, according to the latest estimates from Grand View Research Inc. The researchers expect the global market to be driven by growing cyber threats and advanced malware threats across different verticals.
In recent years, disruptive and emerging technologies in the banking, retail, information technology, defence, and manufacturing sectors have provided new capabilities, facilitated automation, and improved working conditions. They have, however, emerged as powerful forces in the evolution of the global threat landscape of exploits, vulnerabilities, and malware. Advancements in emerging technologies, such as Artificial Intelligence (AI), Machine Learning (ML), big data analytics, Internet-of-Things (IoT), 5G, edge computing, and cloud computing, are allowing market players to introduce new solutions based on these technologies, attract potential business clients, and expand their revenue streams.
Digitalisation is boosting investment
For instance, in April 2023, Google, Inc. introduced Cloud Security AI Workbench, Sec-PaLM. This new model encompasses various security intelligence, such as threat indicators, & research on software vulnerabilities, and offers AI-powered tools to assist and act on cyber security threats. The growing preference for cyber security solutions & services in the IT & telecom industry is prompting market players to enhance their product portfolio & improve their customer base. The ongoing digitalisation wave has resulted in significant changes in the telecom sector. Telecom companies are investing in the latest technologies, such as 5G, IoT, and cloud, which is expected to generate enormous opportunities for the IT & telecom cybersecurity market. In addition, as Bring-Your-Own-PC (BYOPC) becomes a necessity, content migration; and device management is expected to get more critical due to remote management.
This is expected to increase the number of endpoint devices, thereby fueling the adoption of unified cyber safety solutions. The cloud segment is expected to register a CAGR of 13.0% from 2023 to 2030. The shifting end-user companies' focus toward cloud-based solutions owing to minimum hardware requirements, low operating costs, and diverse solution availability is supporting segment growth. The market players are establishing strategic partnerships with cloud technology providers to develop DDoS protection solutions.
Increasing cloud adoption
The research suggests that the cloud security segment is anticipated to register a CAGR of more than 15.0% from 2023 to 2030. Increasing adoption of cloud technologies and remote workforces is propelling the growth of cloud security solutions. Geographically speaking Asia Pacific is the strongest region, and the strongest vertical is the healthcare sector.
Major players in this sector, and mentioned by the analysts in the report include, BAE, Broadcom, Centrify, Check Point, Cisco, Fireeye, Fortinet, IBM, Lockheed Martin, Logrhythm, McAfee, Palo Alto, Proofpoint, Sophos, and Trend Micro.
Source: SECURITY WORLD MARKET