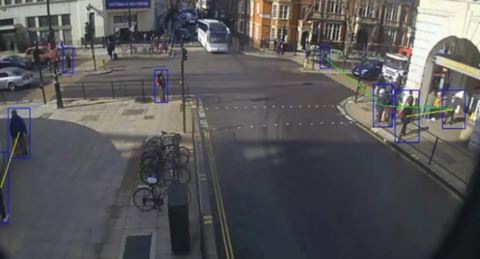 Vivacity Labs have been awarded a grant from Innovate UK for their work in support of UK councils to monitor anonymous social distancing via camera feeds across 16 of the UK's towns and cities.
Since the Government announced the COVID-19 lockdown in March 2020, and the associated social distancing measures, there has been a need to measure the lockdown's effectiveness directly. Understanding the number of social interactions in a specific area is a critical input to epidemiological models; it informs government policy on the severity of the lockdown; and it helps target enforcement activities.
Immediately following lockdown, Vivacity developed a new feature on their smart video sensor devices, able to measure the distance between individual pedestrians, and have been providing central government with anonymous data on the number of <2m interactions between pedestrians from c.100 of their existing sensors. Vivacity are the only data source available for this analysis, and this data is being used directly by multiple government departments to inform the COVID-19 response.
The grant will be used to extend the capabilities and features of sensor data (developed in consultation with their existing clients), including classification of interactions between household groups and strangers; segmentation of social distancing by mode, for example cyclists and pedestrians; measurement of duration of interactions; and automated analytics to help direct enforcement.
This project will develop innovative new processing methods, including both deterministic algorithms and machine learning classification to deliver these features across Vivacity's existing network of hundreds of sensors and CCTV feeds. Video analytics has been used to classify the use of public spaces by mode of transport by Vivacity over the past 4 years, but this is the most ambitious sub-classification of pedestrian activity ever attempted.
Delivery of this solution quickly will help the Government enforce the lockdown, and then monitor the speed and effectiveness of various relaxations in the rules as we come out of the lockdown over the coming months.
Innovate UK Executive Chair Dr Ian Campbell, said: "The COVID-19 situation affects not only the nation's health but also the economy and society. Businesses from all over the UK answered our call rapidly to meet the challenges we face today and in the future through the power of innovation. The ideas we have seen can truly make a significant impact on society, improve the lives of individuals, especially those in vulnerable groups and enable innovative businesses to prosper in challenging circumstances."
CEO Mark Nicholson states: "According to Peter Drucker, if you can't measure it, you can't improve it. We're excited to have this opportunity to enhance social distancing measurement, providing critical data to inform central government response as well as local actions."
Source: SWM