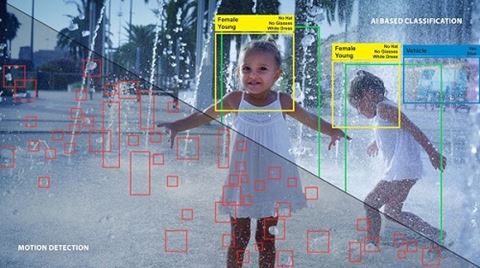 Conventional surveillance systems mostly detect moving targets through sensor devices or motion detection software, without further analysis. This means that they cannot accurately distinguish between, for example, a stray animal and a human intruder, or a vehicle and what may just be video noise. In addition to the time wasted and the cost implications of having to deal with these false alarms, they can also be a major cause of frustration to control room operators.
Uri Guterman, Head of Product & Marketing for Hanwha Techwin Europe suggests that deep learning video analytics has the potential to significantly reduce false alarms.
Event driven monitoring, also known as exception reporting, became an accepted method of bringing an incident to control room operators' attention after it became apparent that it was inefficient for them to constantly look at a screen just in case something suspicious might occur.
Only having to visually verify those alerts that are event-driven brings obvious benefits. Businesses are no longer having to employ large numbers of staff to monitor a relatively low number of sites, but also operators are less at risk of missing something important because of a lack of concentration. However, despite constant advances in technology, current video monitoring methods often generate a large number of false alarms.
If a site suffers from false alarms, the response from remote CCTV monitoring centres usually follows one of two paths. Either additional charges are levied for managing the higher number of alarm activations, or the monitoring service is withdrawn until remedial action is taken. This means the end user either faces a higher cost of ownership than anticipated, or loses video-based security coverage at their site. In some cases, the issue has also led to some control rooms switching off some of the earlier generation of video analytics based systems. It could be argued that these were perhaps oversold in terms of their ability to offer a high level of detection without generating a large number of false alarms.
AI based solutions
Hanwha Techwin believes that by harnessing the power of deep learning video analytics, it is able to provide businesses and organisations of all types and sizes with a powerful tool to help them keep one step ahead of intruders. Running onboard high definition cameras, license-free deep learning video analytics offers a high level of detection accuracy, whilst minimising false alarms.
This is because it is able to simultaneously detect and classify various object types, including people, vehicles, faces and license plates. AI cameras manufactured by Hanwha Techwin are supported by Wisenet AI algorithms which are able to identify the attributes of objects or people, such as their age group, their gender or the colour of the clothing a person is wearing.
The attributes are saved as metadata alongside the images captured by the AI cameras, enabling users to quickly search for specific objects or incidents, with the algorithms even able to recognise if a person is wearing glasses or holding a bag.
Most importantly, Deep Learning video analytics can be configured to ignore video noise, waving trees, moving clouds and animals, all of which might normally be the cause of false alarms when standard motion detection technology or sensors are being used to detect activity. This ability to minimise time wasting and costly false alarms means control room operators and security personnel are able to focus on responding to real incidents and emergencies.
A report produced by Memoori Smart Building Research predicts video surveillance product sales could increase from $19.15Bn in 2019 to $35.82Bn by 2024, and that AI video analytics software is likely to make a significant contribution to this growth. This is perhaps not surprising bearing in mind its potential to make remote monitoring more efficient and affordable, by reducing false alarms and providing the ability to quickly and forensically search recorded video for evidence of any incidents. "In this respect", explains Guterman, "within the not too distant future, we will see the introduction of AI applications developed by Hanwha Techwin and its technology partners which will enhance video surveillance systems to a level which at this time might not seem possible."
Source: SWM