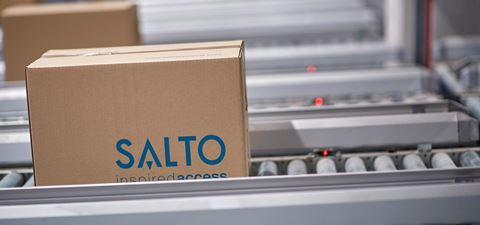 Salto Systems has achieved carbon neutrality thanks to its participation in two innovative projects with a triple-transformative effect on the economy, society and nature to achieve Salto's goal: for its operations to have zero impact on the climate.
In order to accelerate decarbonisation and contribute to achieving the emission-reduction goals set by the Paris Agreement and the UN Sustainable Development Goals, Salto maintains it is committed to promoting environmental recovery projects through revegetation, in order to offset CO2 emissions by sequestering them in tree species.
In total, the 1,721 tons of CO2 generated in 2020 (359 at its headquarters in Oiartzun, Gipuzkoa in Spain and 1,362 across its worldwide network of offices and group companies) were offset in 2021 through two ground-breaking projects: River Chinchiná Forestry Project, Colombia (Fundación Ecodes and CeroCO2): Reforestation and protection of hydrographic basins in the Andes, and Apadrina un Olivo (Sponsor an Olive Tree) in Teruel, Spain, which fights to recover olive groves, as well as against depopulation and the abandonment of olive groves in Spain.
Thanks to these two projects and other strategies devised to decarbonise Salto's activities, together with a commitment to the environment and looking after the natural world, Salto claims it has been able to achieve carbon neutrality across all its factories and offices, in more than 40 countries.
The achievement can be demonstrated in the figures provided by the company, for example, 100% of the electricity used in Salto's factory is sustainable and comes from renewable sources, and 25% of the electrical energy comes from the sun. Salto has installed 640 solar panels in its factory, the first large-scale solar power installation in its global network. In addition, numerous energy-efficiency initiatives have been adopted that have reduced carbon emissions through energy saving, avoiding 198 tons of CO2 per year.
In addition, Salto has minimised single-use plastics in its packaging, offices, work café and marketing materials and replaced them with more sustainable alternatives, such as biodegradable products made from FSC-certified paper, cellulose and wood.
The environmental policies implemented by Salto reduce the environmental impact of its operations. By adopting practices that reduce its carbon footprint, helps the company to consume energy responsibly, whilst minimising waste as much as possible and maximising resource use.  Salto also sets mandatory environmental standards to embed sustainability across Salto's worldwide network of offices and headquarters.
Source: SECURITYWORLDMARKET